AIR BRUSH TEMPORARY TATTOOS
Waterproof airbrush tattoos are great for large groups! Over 10 designs to choose from! Great for kids and adults! Each entertainer can apply approximately 60 tattoos in an hour.
$100.00/1 hr. +$75/per added hr.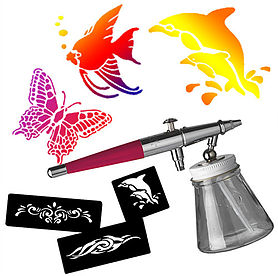 BALLOON TWISTERS
Our performers will add color and excitement to any event! In just moments, the room is filled with bright, colorfull balloons! 1 twister can create up to 60 designs in an hour.
$100.00/1 hr. +$75 per added hr.
FANTASY FACE PAINTERS
Our Face Painters will create amazing, walking, works of art! One Painter can paint up to 20 faces per hour.
$100.00/1 hr. +$75 per added hr.
INTERACTIVE BUBBLE STATION
You can have contests to see which child can blow the biggest bubble, who can blow a bubble that travels the farthest (have the wind at their backs to take advantage of the extra push). The kids could also work cooperatively to build a huge "bubble pile," stacking as many touchable bubbles as possible on top of each other.
Add this activity to any party or event.