Well the answer is quite simple; Firstly we have one of the best selection of "Premium" castles available in Northern Ontario. We can also provide you pretty much everything you need for a great party or event from castles, party supplies to cotton candy, facepainting just to name a few Here are some other great reasons why we are considered the best.
We have solid customer references
We are always ontime and professional
We are community and charitable focused
We clean our units faithfully after every use
We are insured and can provide certificate of insurance to 3rd party event locations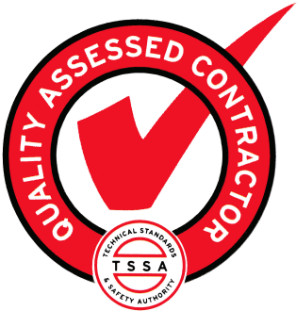 Did you know that inflatables are governed by the Technical Standards and Safety Authority (TSSA)? Any inflatable used at a public event must be TSSA licensed, set up by a TSSA trained mechanic employed by a TSSA certified company with TSSA mechanics on staff.
We take this very seriously. A Public event is any event held by a municipality, festival, corporate, church, school or even a private party held at a public venue or having more than 100 guests. It is easy to hire a company that does not know of TSSA rules, and that can put you at risk of liability in the case of an accident.
Protect yourself as an event planner and protect your guests by taking the time to be sure a company is TSSA certified with TSSA licensed units. Ask to see their TSSA licence, be sure it is up to date, and most important, ask to see the TSSA certificate for each inflatable you wish to rent. They will look like our license and certificate below.
If you have any questions on TSSA, you can TSSA toll-free at 1-877-682-TSSA (8772), or give us a quick call at 705-618-5867 and we would be happy to answer any questions.
RENTAL AGREEMENT
– By accepting delivery of rented units the purchaser agrees to all terms and conditions shown on this rental contract.
THERE MUST BE A POWER SOURCE WITHIN 50 FEET OF INFLATABLE.
Purchaser agrees to waive any and all liability arising from the unit described above. This rental contract forms the sole agreement between the customer and It's Not A Party Without Us the customer agrees to indemnify and hold It's Not A Party Without Us harmless for any claims from customers use or misuse, including any third parties for loss, injury, and damage to persons or property arising out of the customers negligence or operation including legal costs incurred in defence of such claims.
Purchaser assumes full responsibility for all rented items, including their safe and proper use, operation, maintenance, and return to It's Not A Party Without Us. Purchaser is responsible for all loss, damage, or repair of said unit. It's Not A Party Without Us reserves the right to charge an extra fee if such occurrences happen.
Purchaser agrees to read all warnings and safety Instructions of rented unit.
Retaking of Equipment: If customer fails to return all items upon agreed time, the purchaser agrees to pay for all other charges. If purchaser refuses to return rented items, the customer agrees that It's Not A Party Without Us and its agents may take all reasonable actions necessary to recover rented items without prior notice or legal process.
Purchaser acknowledges the possibility of injury and will provide adult supervision at all times according to the rules given to the purchaser prior to event, written instructions or verbal.
Upon signing this agreement, 50% of the rental price must be paid (unless otherwise specified) to It's Not A Party Without Us in order to reserve the said rental item(s) for the purchaser. If the delivery date is 14 days or less from today's date, the total rental price is due in full.
All deposits are non-refundable. If the purchaser/customer decides to cancel the date due to bad or inclement weather, It's Not A Party Without Us must be notified the day before your delivery date during normal business house (9am-5pm Mon-Fri) A mutually convenient date determined by both the purchaser/Customer and It's Not A Party Without Us! will be honoured up to 12 months from the original delivery date. All monies received will be honoured on the future date.
The purchaser agrees to allow It's Not A Party Without Us to charge any remaining balance due to It's Not A Party Without Us to purchaser's credit card for any reason including, but not limited to, purchaser's failure to pay balance due to It's Not A Party Without Us within 30 days of said event date, damage to It's Not A Party Without Us equipment, a check received from Purchaser that was returned unpaid by the purchaser's bank, and any or all other legitimate reasons of purchaser not paying the balance due to It's Not A Party Without Us.
ATTORNEY FEES: CUSTOMER AGREES TO PAY ALL REASONABLE ATTORNEY FEES AND COURT COSTS INCURRED BY 'It's Not A Party Without Us' IN ENFORCING THESE TERMS AND CONDITIONS.
If paying by credit card, please call (705) 618-5867 and give your representative your credit card information.
It's Not A Party Without Us understands nobody can control the weather, and we believe our weather policy is one of the fairest policies available! If we are unable to set up the equipment the day of the event the customer and we will agree on a rebooking date and the payment will be transferred to that date less a 50% restocking fee to cover expenses incurred; loading, unloading and rescheduling. Birthday Parties will not be charged a restocking fee however the 50% deposit can be used as a credit toward a rescheduled party. If the customer has not contacted us to re-schedule and the set-up crew arrives on site to set up, the payment will be considered to be used in full regardless of weather problems. No credit will be issued at that point. FOR SCHOOL FUN FAIRS ONLY: Inclement weather: We will move the inflatable equipment into the gymnasium. No cancellations will be accepted due to weather. Our Inflatables & Games Inc., at its own discretion, may choose to move the fun fair indoors based on inclement weather or forecasted inclement weather to offer the highest level of safety for your students.
It`s Not A Party Without us, at its own discretion, may refuse to set up equipment or may return early to take down equipment due to wind or weather conditions for safety reasons. If possible, we will do it's best to accommodate customers (i.e. moving units indoors if possible) but safety of riders and users of the equipment is our primary concern.
CANCELLATION POLICY: Cancellations outside of 14 days before the date of the event will result in the customer being charged 50% of the rental contract. Cancellation within 14 days of the event will result in the customer being charged 100% of the rental price.