Inflatable Manual Rodeo Bull | Contact for special pricing.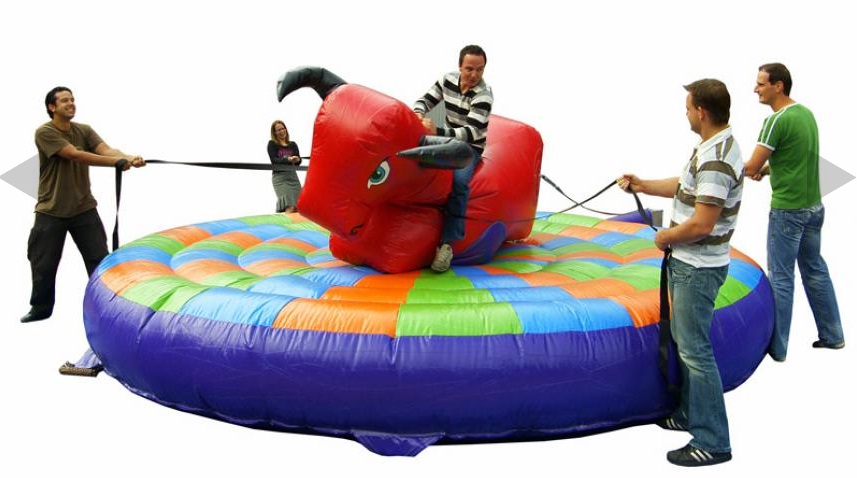 Our fantastic manual rodeo bull is great fun for adults and children alike. One person sits on the bull whilst four people tug at the bungee cords to shake and buck the bull and try to throw the rider off.
This bull always goes down a storm at any party or function and unlike a automated bull is available without an operator so you can enjoy the fun all day and at a fraction of the price of the automated version.
…
Suitable for indoor or outdoor use the space needed for this inflatable is 20ft square area.
Contact for special pricing.
Giant Shoot out inflatable basketball | $400.00 for 4 hours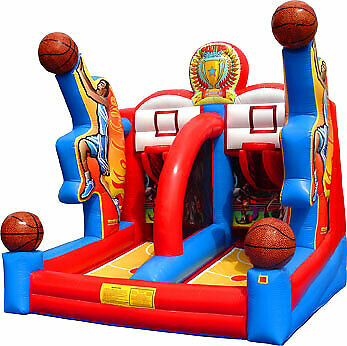 This fast-paced competitive game will have participants offering up their best shots as they try to out shoot each other. Each player will engage in a crossover shooting action as they try to make baskets. Each shot that you make returns your ball to your opponent's lane. The first player to get rid of all their basketballs rules this inflatable court.
Dimensions: 25′ L x 18′ W x 19′ H …
Carnival Games
4 Small Games and Go
Only $100 Pick-up Price.
Bigger Frame Games
Only $50.00 each Pick-up Price.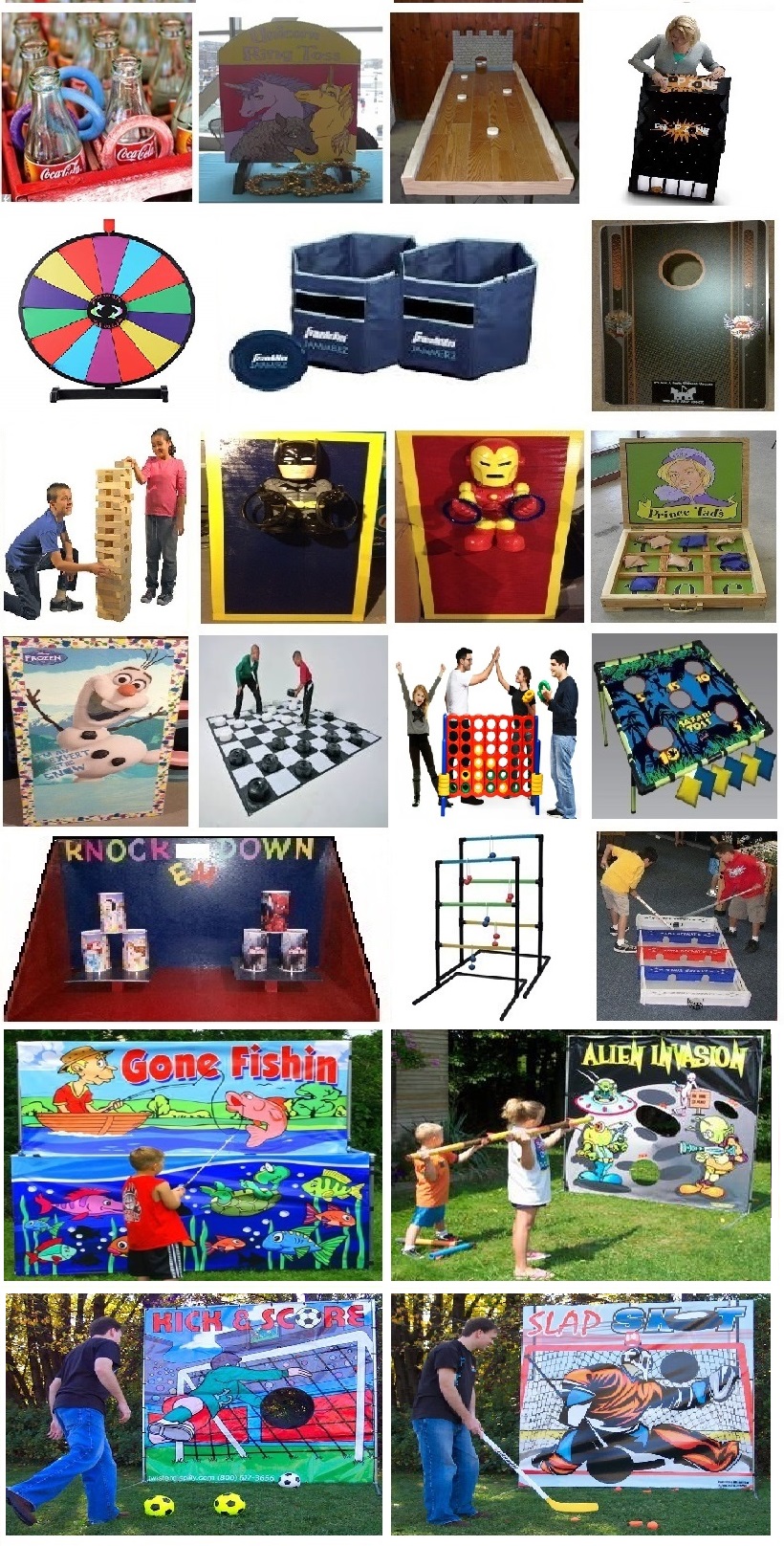 Minnow Race games starting at $50.00 | Add on to any party.

Inflatable Soccer Darts | $50 add on to any party!
The latest craze now available.
Cross soccer with darts and you get Giant Soccer Darts!
Dimensions: 66″ H x 77″ W X 27″ D

Inflatable Soccer Field | $100 add on to any party!
Kids inflatable mini soccer field for full-field action with goals and field markings.
Ideal for large backyards; dimensions 23′ L x 12′ W x 42″ H
We could add Foam machine for extra charge to make this crazy fun.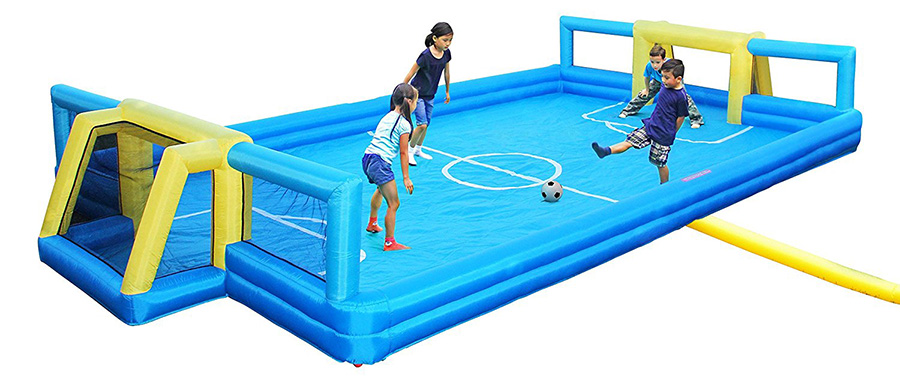 Huge Inflatable Soccer Field | $150.00 add on to any party!
Little Tikes Huge Inflatable Backyard Soccer & Basketball Court for multiple kids
Your backyard becomes your very own stadium with Little Tikes Huge Inflatable Backyard Soccer & Basketball Court.
With basketball hoops and soccer goals on the 24′ L x 12′ W x 7'H
Inflatable Soccer Kick Game| $200.00/4 hour rental
The Inflatable Soccer Kick Game is one of our most popular interactive products, ideal for larger occasions.
Dimensions: 8′ Wide x 7′ Tall x 4′ Deep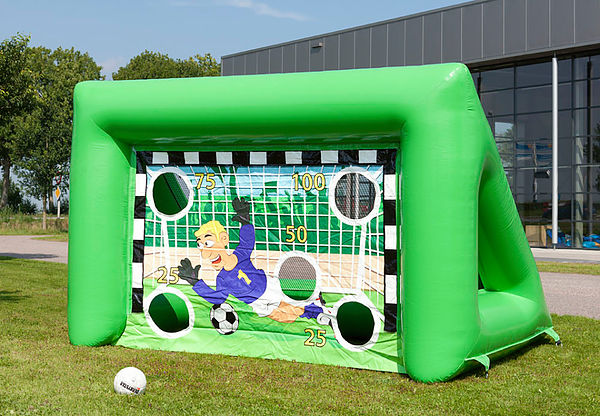 Skee-Ball Inflatable Game | $200.00/4 hour rental
The most popular carnival game of all! Roll your ball and see who can get the most points.
Price shown is for 3-day customer pick-up only! Please call for delivery price.
Dimensions: 22′ L x 6.5′ W x 9′ H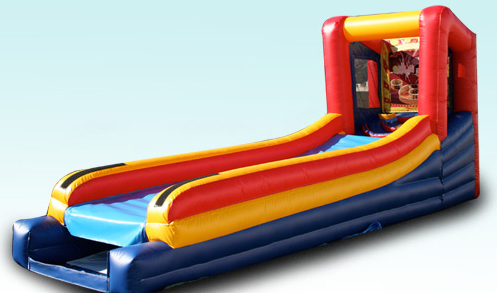 Chip Shot Inflatable Golf Game | $250.00/4 hours
This inflatable golf game rental is a great addition to any carnival or festival or a golf fanatics birthday party. It comes equipped with a golf club and balls so that you can test out your skills on the inflatable course. The goal of the game is to chip the golf balls into the rings at the back of the inflatable. See who is the best chipper!
Dimensions: 14′ L x 11′ W x 11′ H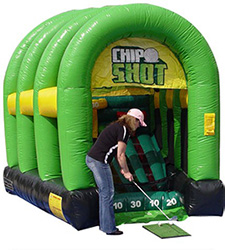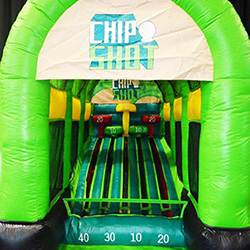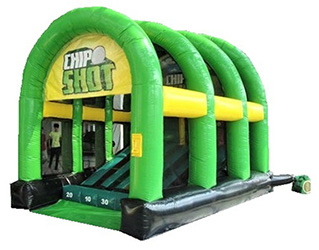 One Armed Bandit Rentals Available! | $300.00/4 hrs.
Inflatable money machines are great for grand openings, special events, mobile events and so much more. You can line up for fun and excitement with an interactive money machine.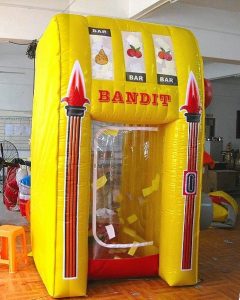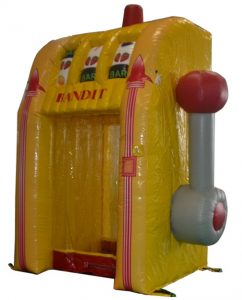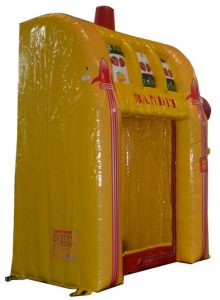 Football Inflatable Kick and Toss Game | $400.00/4 hour rental
Football Field Goal Challenge.
The ultimate in Football game rental Why? Because its huge. One side is intended for kicking field goals & the other for throwing touchdown passes. A blast for children's party entertainment Kick or toss this football game is for any football fan and hit at a party.
Dimensions: 20'deep x 30'wide & is 20′ tall (make sure you have enough space)