SUMO WRESTLING SUITS | $400/4 hrs.
For birthday party, family event, corporate event, group fundraiser, church event, bachelor party, or any other event you may be planning.
Sumo is # 1 Ontario's most popular interactive game.
Medium Adult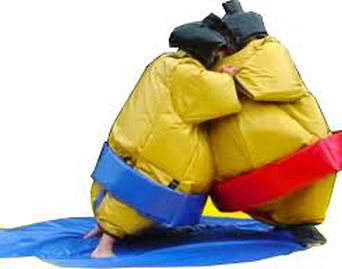 SUMO SUIT: HULK VS. BATMAN | $500.00/4 hrs.
The aim of the game is to push, pull, belly bounce and try with all your strength and super powers to get the other Superhero out of the circle, down on the mat or pin them to the floor. This game is as much fun for the spectators as it is for the contestants.
Why not give them a go, and make a day your kids will remember for years to come!
Large Adult.